Picked up Ellipsis, pMinimap, LynStats, and a modified oUF_Lyn. Ditched StatBlocks for StatBlockCore and various LDB plugins. Ditched kgPanels for a quick custom jobby.
Moved the Ellipsis timer bar to be just above its cool down bar, got rid of CoolDownButtons, have to find a new place for BigWigs timers.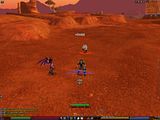 UI memory usage is down from ~25MBs to ~16MBs. I'm currently torn/stuck regarding debuffs on my target frame. I grow debuffs upwards, but I reserve one row for buffs. The problem is it looks silly when the target has no buffs, but with the frames at the bottom edge of my screen I can't put buffs on the underside of the frame or anything like that.
I tried checking for buffs and then changing the anchoring of the debuff frame based on that, but it doesn't check when buffs/debuffs change. If anyone has any elegant solutions or thinks I'm missing something or thinks I should just ditch showing buffs on the target frame altogether, feel free to share your thoughts/opinions.