Antr
Curse Premium
Join Date:

2/7/2009

Posts:

2

Member Details
All of <Conscious-Kazzak> (formerly known as Endless) raid addons compiled in to one.
Modules:
Lady Ashvane
Marks players with eagle debuff with red and purple, players with anchor debuff with star and circle and players with eye debuff with blue and green. Prioritizes players with low raid index (grp1-grp2) with star, cross and square so the raid leader can put melee in those groups and put world markers with those colors closest to melee.
Uunat (Mythic)
Makes you yell a marker when affected by resonance and yells a marker and STORM/OCEAN/VOID when holding the relic during resonance. Marks are configured in the settings.
Opulence (Mythic)
Healers get a popup (movable in combat) that tracks all players cooldowns that are longer than 60s as well as the amount of tailwind stacks each player has to make ensure players have 5 stacks when their cooldowns are coming off.
High Tinker Mekkatorque
A) During phase 1 and 3 it will assign all players that are shrunken to another shrunken player and show them the UI shown below. In the UI you can see 5 different colors each 1 correlating to the buttons shrunken players have. The addon tells you who you are assignment is and to target them. Whoever you have as your actual target will get a popup text (that can be customized in the general settings) once you pressed 1 of the 5 buttons in the addon UI, the popup text will contain the color of the button you pressed helping them defuse their robot. You can also target other players and send them information instead in the case that who ever is assigned to help them for any reason can not do so i.e they dc:ed or left their robot too early. The addon is assigning everyone so that everyone has someone helping them so if no mistakes are made you only have to help who ever the addon tells you is your target remember you still have to target them in the game before pressing any buttons. B) in phase 2 there are more shrunken players than there are spark bots so the addon will assign players as they jump in to spark bots meaning first person to jump in gets assigned to the 2nd person, 2nd person assigned to 3rd person and so on, ending with Nth person getting assigned to the first person to complete the circle. Other than that it works the same as in phase 1 and 3. So simply press the button in the addon UI that matches the color above your assigned player head while targeting your assigned player from the addon.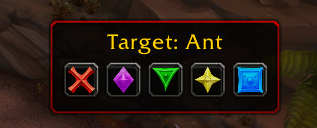 MOTHER:
Puts a marker on the person with endemic virus while they are 10 yards away from any player and updates in real time. Also sends a popup message to all healers letting them know.
Ready Check:
If you are in a raid and you are either AFK or decline a ready check you will get an ugly looking button that will tell your raid mates that you are ready once you press it. It is ugly so that you will get ready faster and press the button to make it go away ;).
Bonus Loot:
A popup window that shows when you enter the most current raid asking you which bosses you want to coin. Once you killed a boss you want to bonus loot it reminds you with a popup text that can be customized in the general settings. It also keeps track on how many failed bonus rolls you have so far. Every 7th bonus roll you are guaranteed an item so the addon hooks the bonus roll window and adds a text "BLP(Bad Luck Protection) X/6".
Calendar Notifcation:
On login a voice reads "You have X amount of unanswered calendar invites" (only counting raid events). If you have no unanswered invites you get no notification.
Innervate

Tells your druid that you need innervate with a popup on your druids screen!
/endlessinnervate PlayerName
You can customize the popup in the general settings.
Interrupt
Makes you create interrupt orders and tells the next person in the order to interrupt with a popup on that players screen.
You can customize the popup in the general settings.