Lazare
Curse Premium
Location:

Behind you! ( ͡° ͜ʖ ͡°)

Join Date:

5/12/2005

Posts:

20

Member Details
QuestGuru

Features include:
Enhanced quest display in the log
Patch 6.0 broke QuestGuru, so this is a completely different monster
Conforms to the WOD map quest log (Tooltips for quests and icons showing quest status)
Added full time quest level in front of quest name and tooltips.
For those who are missing the Quest Tracker of QuestGuru, try Kaliel's Tracker
I have been using it for a long while and is very good :)

TO-DO's:
Will try and revamp the quest tracker as I love it also. But wanted to get the Log out ASAP.
Try to bring back the other features of the old QuestGuru (announcements, etc.)
Need to make a in-game config window, still a work in progress.
F A Q
==============
Q. How do I post a Bug Report?
A1 - Click on QuestGuru Go to the AddOn and on the right side there is a selection called "Bugs" click on that. You will need to be signed in to WoW Interface to create a bug report.
A2 - Or file a ticket QuestGuru@CurseForge
Note:
Please include the version of QuestGuru you are using and copy/paste the error message you receive.
Please describe what you were doing when the error happened. This will help tremendously.

Q. How do I turn on auto-tracking of quests?
A - Look in the options for the game itself, not QuestGuru. Under Objectives there are options to set when to track quests.
QuestGuru does not duplicate these settings in its own options as it could become problematic and it is not necessary to duplicate options already available.

Q. Where can I find a version compatible with WoW patch x?
A. QuestGuru is supported for the current Expansion and Patch level running on the live servers. PTR versions may be supported as Alpha or Beta releases, but I offer no guarantee.

NEW
SOUND OPTIONS:
Default sound set is now the old QuestGuru set (as requested by many)
/qgs set <soundsetname>
Sets the sound set and plays its quest completion sound
/qgs set
Lists the known sound set names
/qgs test <quest or objective or part>
Plays the current 'quest', 'objective' or 'part' completion sound
/qgs message <objectives or completion or none>
Sets verbosity of messages in the chat log to 'objectives', 'completion' or 'none'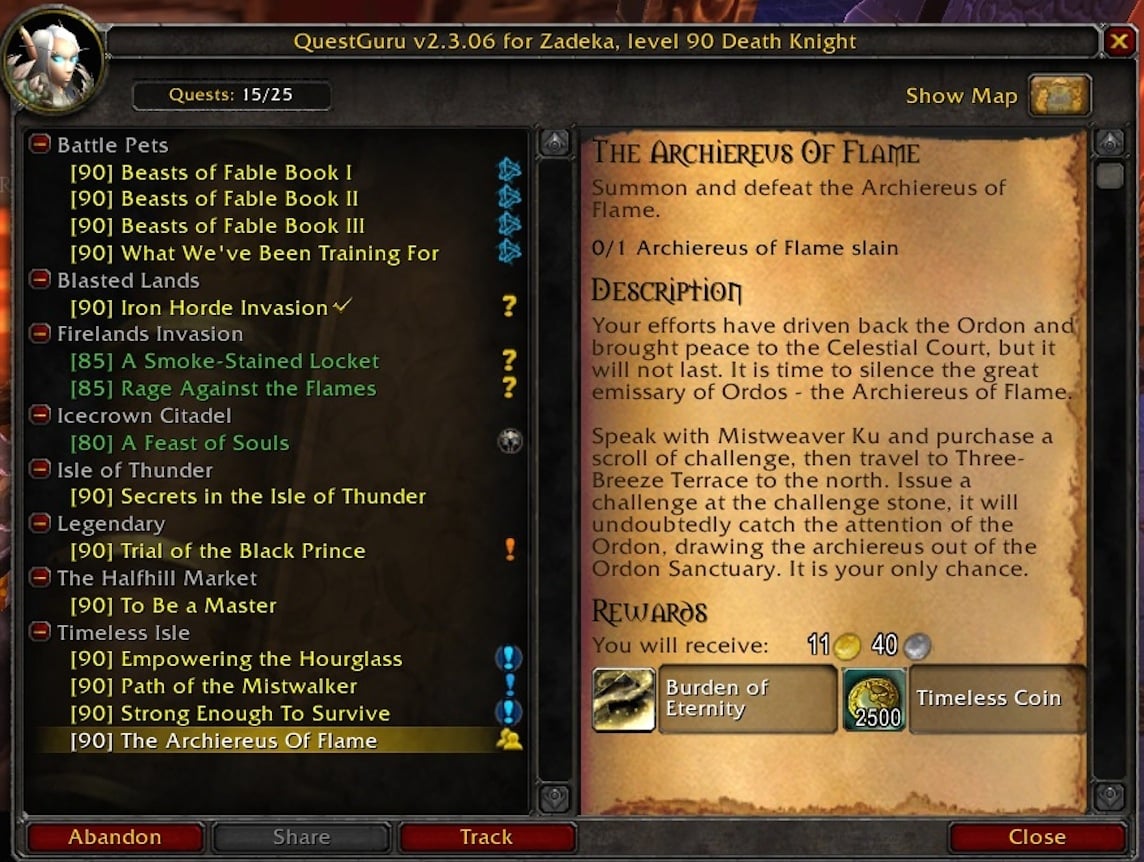 Last edited by
Lazare
: Sep 20, 2017
HOME OF THE FREE, BECAUSE OF THE BRAVE