Forge_User_76680119
Join Date:

9/6/2006

Posts:

23

Member Details
Download:
http://www.wowace.com/files/index.php?path=FuBar_TankPointsFu/
Haven't created a wiki page yet, but will edit one soon (url below), but the latest version is up on SVN as above.
http://www.wowace.com/wiki/FuBar_TankPointsFu
Ace 2 mod that requires FuBar 2
Tank Points is an arbitrary value, designed to give you a rough way of measuring the overall effectiveness of a tank (against melee attacks). It takes into account your health, armour, defense, dodge, parry & block. The overall number can be thought of as the amount of damage that a boss mob needs to inflict to kill you (before mitigation). Obviously, the higher the number, the better.
Features:
* Displays Tank Points, Armour, Defense, Attack Power, Crit % on your FuBar and a load more information on the tooltip for the plugin (see the picture).
* Can yell an alert / report to raid chat on activation of the following abilities (Shield Wall, Last Stand, Challenging Shout).
* Report mode. Causes all warriors with this mod to report their critical stats (Health, Armour, Avoidance) to guild/raid chat. Awesome for figuring out OT order at Patchwerk.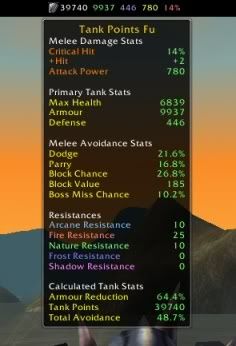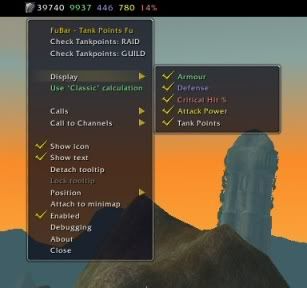 I've reworked the tankpoints formula to take into account the following:
- Crushing Blows.
- Shield block % (mitigating crushing blows).
- Shield block value (reducing damage).
Calculation for Tank Points
Crushing blows land 15% of the time, UNLESS BLOCKED and can be assumed to do roughly 150% the damage of a regular hit.
The calculation to include blocking is a VERY rough approximation as the usefulness of block dramatically varies from fight to fight. For the sake of the maths here, it was assumed that the boss attacks with speed 1.0 for approx 1500 damage on the tank.
ArmorReductionTemp = Armor/((85*PlayerLevel)+400)
ArmorReduction = ArmorReductionTemp/(ArmorReductionTemp+1)
CritReduction = (Defense-PlayerLevel*5)*0.04*0.01
MobCrit = max(0,0.05-CritReduction)
mobCrush = 0.15 * (1-blockChance) * 0.5 (Crushing blow is 150% damage)
block = blockValue * ((2 + 4*blockChance) / 6 ) / 1500
TotalReduction = 1 - [ (1+mobCrit+mobCrush-block) * (1-mobMiss-dodge-parry) * (1-ArmorReduction) * stanceModifier ]
TankPoints = MaxHealthPoints/(1-TotalReduction)